Each of the last seventy one months has seen job growth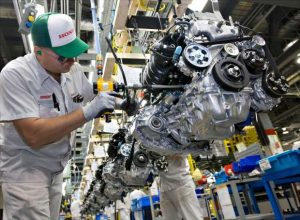 While the American economy may have lost some of its momentum just recently, consumption which accounts for 70% of GDP remains robust. Household confidence remains high and labour markets strong with 151,000 new jobs created in January. However this was a fall from the monthly figures for December. Wage growth accelerated to an annual rate of 2.5% while the unemployment rate fell to 4.9%. This is the first time unemployment has fallen below 5% in almost eight years. Each of the last seventy one months has seen job growth which is the longest run on record. The drag on exports due to the stronger US$ also looks set to fade now that further US interest rate rises are less likely.
Janet Yellan took a risk in raising US interest rates in December  and was wise to back off on further rises in the near future. The growth in the US$ against other major currencies is now starting to reverse. The dollar has dropped 4% over the past nine weeks; this is the currency reprieve that at least half the world has wanted.
If the US$ spike is over and the low cost oil dividend coming through plus China turning a corner on currency debt and growth, we may, see some welcome improvements to stock values.
---
Chris Davies
Chartered Financial Adviser
Chris is a Chartered Independent Financial Adviser and leads the investment team.